Trim a Tree
A Card with a Christmas Tree being trimmed or already trimmed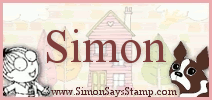 who are very generously giving the winner a $15 Gift Certificate
For my card I have used one of the Christmas Images from LOTV.
The image is coloured with Prisma Pencils of course I had to add some stickles!
Martha Stewart - Snowflake punch around the page
Sentiment - Lili of the Valley
Ribbon from stash.
Thanks for popping over to visit.
Hope you all have a good day.
Hugs Sally xxx